The SciLog® SciFlex® NFF is a proven semi-automated single-use platform to use in discovery to production-scale normal flow applications.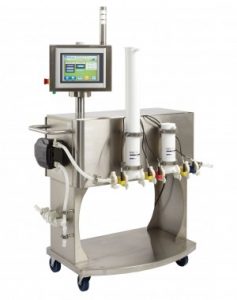 Features and Benefits:
Walk-away automation improves filter throughput using patented rate pressure controlled feed.
Options for fully disposable, semi-disposable, or stainless CIP flowpaths.
Configurable for multiple or flexible processes.
Accommodates any commercially available filter.
Touch-screen interface with optional OPC connectivity for process documentation or remote control.
Mobile and compact base.
User configurable alarms and interlocks.
Optional integrated scale for highly ac.
Aplications:
Viral filtration
Cell harvesting
Chromatography column loading
Clarification and sterilization