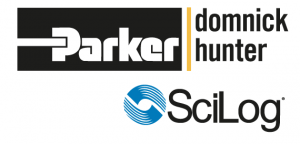 The SciLog® SciPure FD System is an automated single-use system for the bulk filtration and dispense of biopharmaceutical products into either bags or bottles.
Features and Benefits: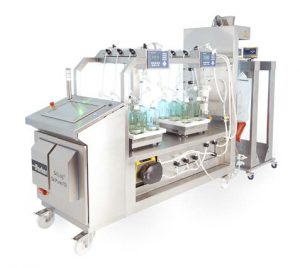 Automated system for filtration and dispense of bulk active pharmaceutical ingredients.
Up to 9999 receiving containers per batch.
Standard sterile flow paths.
Option to specify ten samples during the dispense process.
In line pre and post use integrity testing.
Fully enclosed processing.
Barcode reader for manifold tracking (optional).
Automated filter flushing and conditioning.
Load cells located under receiving containers ensuring direct measurement for high dispense accuracy
Calibrated SciPres® Pressure Monitors ensure validated pressure limits are not exceeded.
Recipe driven process with industrial standard HMI and PLC.
Fully programmable alarms and interlocks to protect the product and the process.
Four standard dispense modes.
Integrated label printer with labels suited to cryogenic storage.
Reverse flow and purge options to maximize product recovery.
Configurable dual dispense rates minimize dispense time while.
The SciLog® SciPure FD – video
Single-use Final Bulk Filling of Biologic Drug Products – video
The SciLog® SciFlex® NFF is a proven semi-automated single-use platform to use in discovery to production-scale normal flow applications.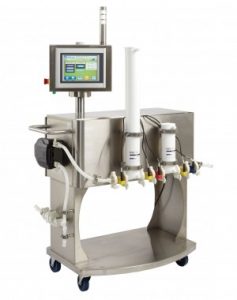 Features and Benefits:
Walk-away automation improves filter throughput using patented rate pressure controlled feed.
Options for fully disposable, semi-disposable, or stainless CIP flowpaths.
Configurable for multiple or flexible processes.
Accommodates any commercially available filter.
Touch-screen interface with optional OPC connectivity for process documentation or remote control.
Mobile and compact base.
User configurable alarms and interlocks.
Optional integrated scale for highly ac.
Aplications:
Viral filtration
Cell harvesting
Chromatography column loading
Clarification and sterilization
The SciLog® SciFlex® TFF is an automated tangential flow filtration system.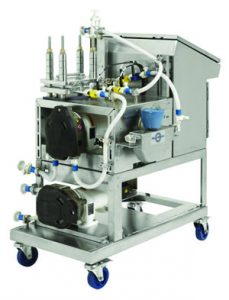 The SciFlex® TFF is a semi-automated, single-use tangential flow filtration (TFF) system that automatically monitors, adjusts and documents pressures and flow rate to optimize filtration speed and maximize filter life and efficiency, eliminating the need for constant monitoring during runs.
Features and Benefits:
Automated onboard filtration methods.
OPC data collection via ethernet.
Integrated SciPres® pressure sensors.
Safe, walk-away system operation.
Intuitive application interface.
'Open Architecture' engineering enables this system to work with most filters or membranes.
SciLog® SciFlex® TFF – video
Accelerate to market and reduce your purification costs with the SciLog® SciPure™ TFF and NFF Systems.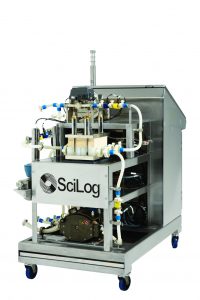 The SciPure™ system's user-friendly interface and menu-driven operation with data acquisition (21 CFR Part 11) make them ideal for GMP manufacturing. Systems come with a comprehensive documentation package that drastically reduces validation times.
Features and Benefits:
Maintains optimal TFF or NFF conditions with fully-automated control.
User-friendly with full colour graphical display, touch-screen and menu-driven operation.
User definable recipes and parameters, or real-time control.
Reduces purification costs by optimizing, controlling and documen.
Batch method generator.
Configured single-use or stainless steel manifolds with minimum hold-up volume.
Can be used with any manufacturer's filters.
Ethernet IP.
User administrative controls.