| | |
| --- | --- |
| | |
Product
SciLog® FilterTec™/ FilterTec™ Plus
SciLog® PureTec®
SciLog® MabTec®
SciLog® ChemTec™
SciLog® LabTec™
Use

Automated Normal Flow Filtration (NFF) System

Automated Tangential Flow Filtration (TFF) System

Automated Bioreactor Maintenance System

Automated Metering System

Automated Dispensing system

Applications

Media filtration

Buffer filtration

Bioreactor harvest

Final sterile filtration

Chromatography column loading

Up to 3 filters evaluation and comparison

Protein purification

Concentration

Diafiltration

Harvesting & clarification

Inoculating, transfecting and induction

Perfusion

Ultra high-detensity cel culture

Feeding of cell cultures

Feed scheduling for chemical reactors

Chemical metering

pH adjustments

Solution weight meintenance

Preparative chromatography

Laboratory sample preparation and dilution

Final fill finish in small production runs

Advantages

Optimization and automation of NFF applications

Incorporates patented R/P Stat Mode increases filter throughpit up to 30%

Complete TFF application development system

Automatically monitors flow rate to optimize yield

Can be used with any manufacturers' filters

Pre-programmed modes for bioreactor maintenance applications minimize set up times

Eliminates bioreactor addition errors

Accurate metering by volume or weight

Programmed linear




or exponential feed

Rapid and accurate dispensing by volume, weight or weight ratio

10 pre-set dispensing modes to save time when switching from one volume to another
SciLog® FilterTec™/ FilterTec™ Plus
Normal Flow Filtration (NFF) System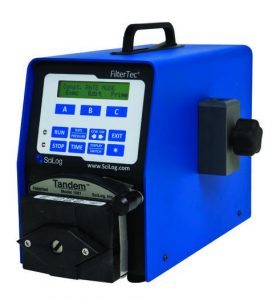 The SciLog® FilterTec™ is an automated laboratory scale normal flow filtration (NFF) system that monitors, adjusts and documents filter back pressure and filtrate.
Features and Benefits:
Filterability studies and VMax determination.
Increase DEF filter utilization up to 35%.
3 pressure sensor and balance hook-ups for filter trains.
Safe, walk-away system operation.
Tangential Flow Filtration (TFF) System
The SciLog® PureTec® is a laboratory-scale tangential flow filtration (TFF/"cross flow") and parameter development system.
Features and Benefits:
Ideal for lab-scale UF/MF/DF – concentration and diafiltration.
Controls and monitors TMP (transmembrane pressure) and feed rate.
Set end points and alarm for walk-away operation
SciLog® PureTec® – video
Cell Culture Maintenance System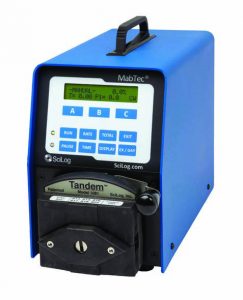 The SciLog® MabTec® is an automated high density cell culture system.
Features and Benefits:
Promote high-density cell culture though automated seed, feed and perfusion strategies.
Methods and alarms to protect your entire cell culture processes.
Modular compact design enhances current setups.
Seamless integration to any bioreactor to enhance performance.
Precision Metering System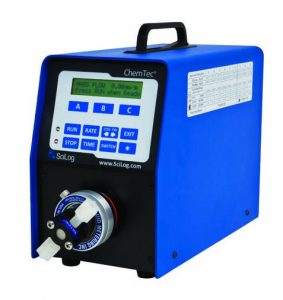 The SciLog® ChemTec™ is a high precision metering system that provides application specific automation for chemical and biological application.
Features and Benefits:
Stored methods for linear or exponential feed by weight or volume.
Validated methods for pH control and titration, analytic (UV, turbidity) device tracking, preparative chromatography, and buffer weight maintenance.
Walk-away automation with remote or user defined alarms and interlocks.
Programmable control of two 6-port rotary valves
Smart Dispenser System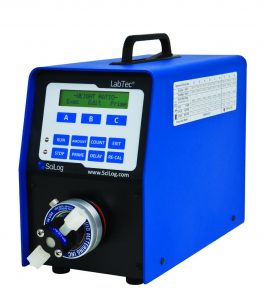 The SciLog® LabTecTM is an automated laboratory scale dispensing system by volume, weight or weight ratio.
Features and Benefits:
Rapid, high precision dispensing/filling, mL to L.
Store up to 10 dispensing procedures.
Automated dispensing by weight or by volume.
In-line filter sterilization – senses filter plug-up.
Sample weighing and auto-diluting – weight ratio capability.
Performance validation sent with each LabTec®.
Hands free dispensing with footswitch
SciLog® LabTecTM – video
Complete Cell Culture Harvest System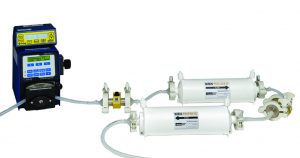 The HarvestClear® Filtration System is a complete solution for cell culture harvest that provides fast, automated clarification of bioreactor outputs up to 20L. The system integrates SciLog fluid handling and pressure sensing expertise with the filtration excellence of Parker domnick hunter.
Features and Benefits:
A turnkey solution for rapid controlled clarification of bioreactors outputs up to 20L.
Reduced set-up time.
Integrated SciPres® pressure sensors enable patented R/P Stat Method which improves filter capacity and allows for safe, walk-away processing