The SciLog® SciPure FD System is an automated single-use system for the bulk filtration and dispense of biopharmaceutical products into either bags or bottles.
Features and Benefits: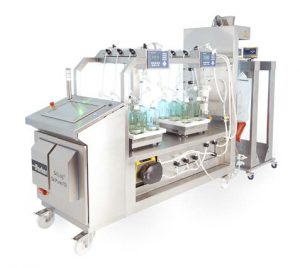 Automated system for filtration and dispense of bulk active pharmaceutical ingredients.
Up to 9999 receiving containers per batch.
Standard sterile flow paths.
Option to specify ten samples during the dispense process.
In line pre and post use integrity testing.
Fully enclosed processing.
Barcode reader for manifold tracking (optional).
Automated filter flushing and conditioning.
Load cells located under receiving containers ensuring direct measurement for high dispense accuracy
Calibrated SciPres® Pressure Monitors ensure validated pressure limits are not exceeded.
Recipe driven process with industrial standard HMI and PLC.
Fully programmable alarms and interlocks to protect the product and the process.
Four standard dispense modes.
Integrated label printer with labels suited to cryogenic storage.
Reverse flow and purge options to maximize product recovery.
Configurable dual dispense rates minimize dispense time while.
The SciLog® SciPure FD – video
SciLog® SciFlex® Filter and Dispense System – video
The SciLog® SciFlex® NFF is a proven semi-automated single-use platform to use in discovery to production-scale normal flow applications.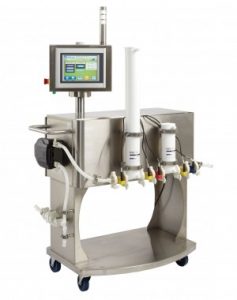 Features and Benefits:
Walk-away automation improves filter throughput using patented rate pressure controlled feed.
Options for fully disposable, semi-disposable, or stainless CIP flowpaths.
Configurable for multiple or flexible processes.
Accommodates any commercially available filter.
Touch-screen interface with optional OPC connectivity for process documentation or remote control.
Mobile and compact base.
User configurable alarms and interlocks.
Optional integrated scale for highly ac.
Aplications:
Viral filtration
Cell harvesting
Chromatography column loading
Clarification and sterilization
The SciLog® WeighStationTM family is an assortment of mobile, compact, bioprocessing container holders with integrated scales for gravimetric fluid handling.