The SciLog® SciFlex® NFF is a proven semi-automated single-use platform to use in discovery to production-scale normal flow applications.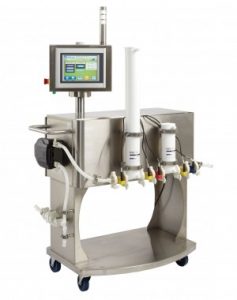 Features and Benefits:
Walk-away automation improves filter throughput using patented rate pressure controlled feed.
Options for fully disposable, semi-disposable, or stainless CIP flowpaths.
Configurable for multiple or flexible processes.
Accommodates any commercially available filter.
Touch-screen interface with optional OPC connectivity for process documentation or remote control.
Mobile and compact base.
User configurable alarms and interlocks.
Optional integrated scale for highly ac.
Aplications:
Viral filtration
Cell harvesting
Chromatography column loading
Clarification and sterilization
The SciLog® SciFlex® TFF is an automated tangential flow filtration system.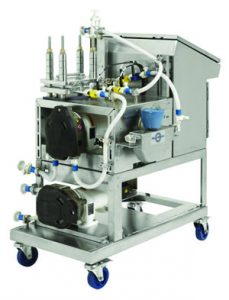 The SciFlex® TFF is a semi-automated, single-use tangential flow filtration (TFF) system that automatically monitors, adjusts and documents pressures and flow rate to optimize filtration speed and maximize filter life and efficiency, eliminating the need for constant monitoring during runs.
Features and Benefits:
Automated onboard filtration methods.
OPC data collection via ethernet.
Integrated SciPres® pressure sensors.
Safe, walk-away system operation.
Intuitive application interface.
'Open Architecture' engineering enables this system to work with most filters or membranes.
SciLog® SciFlex® TFF – video
Tangential Flow Filtration (TFF) – video
Accelerate to market and reduce your purification costs with the SciLog® SciPure™ TFF and NFF Systems.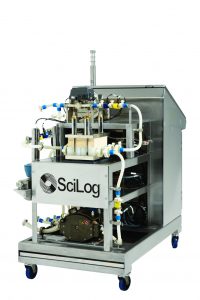 The SciPure™ system's user-friendly interface and menu-driven operation with data acquisition (21 CFR Part 11) make them ideal for GMP manufacturing. Systems come with a comprehensive documentation package that drastically reduces validation times.
Features and Benefits:
Maintains optimal TFF or NFF conditions with fully-automated control.
User-friendly with full colour graphical display, touch-screen and menu-driven operation.
User definable recipes and parameters, or real-time control.
Reduces purification costs by optimizing, controlling and documen.
Batch method generator.
Configured single-use or stainless steel manifolds with minimum hold-up volume.
Can be used with any manufacturer's filters.
Ethernet IP.
User administrative controls.
SciLog® FilterTec™/ FilterTec™ Plus
Normal Flow Filtration (NFF) System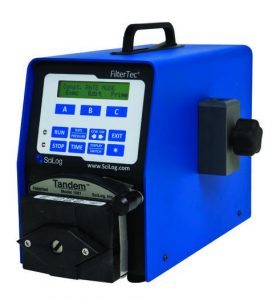 The SciLog® FilterTec™ is an automated laboratory scale normal flow filtration (NFF) system that monitors, adjusts and documents filter back pressure and filtrate.
Features and Benefits:
Filterability studies and VMax determination.
Increase DEF filter utilization up to 35%.
3 pressure sensor and balance hook-ups for filter trains.
Safe, walk-away system operation.
Tangential Flow Filtration (TFF) System
The SciLog® PureTec® is a laboratory-scale tangential flow filtration (TFF) and parameter development system.
Features and Benefits:
Ideal for lab-scale UF/MF/DF – concentration and diafiltration.
Controls and monitors TMP (transmembrane pressure) and feed rate.
Set end points and alarm for walk-away operation
The SciLog® WeighStationTM family is an assortment of mobile, compact, bioprocessing container holders with integrated scales for gravimetric fluid handling.