FA6™ Evaporative Humidifier/Cooler has been specially designed for integration into air-handling systems within both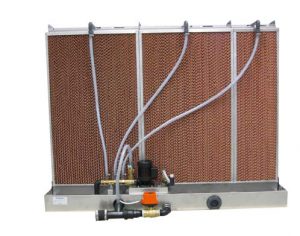 residential and industrial buildings. The design is compact and sizes conform to all typical air-handling units(AHU). This system is suitable for HVAC, home and industrial applications..
Standard range covers 3 nominal efficiencies 65%, 85% and 95%. All of them they are designed in both alternatives direct and circulating water system. Air flow-rate is in the range of 0.5 to 30 m3/s. The smallest unit has dimensions 0.6 x 0.6 m; the largers one approx. 3 x 3 m. Recommended air speed is up to 3.5 m/s without  droplet separator DropSTOP , and up to 4.5 m/s incl. droplet separator.
Main benefits of FA6 humidifiers are following:
humidifying cassettes GLASdek™ are non-flammamble
design of both alternatives direct and circulating water system
with or without droplet separator DropSTOP™
available control system for dew point, step or bypass control
full discharge of bottom water tank
simple maintenance
complete accessories kits available