Compact PSA dryer of Compressed Air Zander®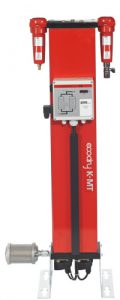 Consists of inlet microfilter series XL, adsorption PSA dryer and final dust filter series VL. Desiccant reactivation is ensured by small part of dry air. Designed capacity is up to 940 m3/h, max. pressure PS16.
This system can be modified by adsorber of hydrocarbons to KA-MT which ensures residual oil content as outlet 0,003 mg/m3 at standard conditions.
Features:
Compact design
Easy installation
Low power consuption, max 40W/ 230VAC
Optional dew point control ZHM 100 saves up to 70% of operating costs
Dryer does not comprise pressure vessels
Control system Multitronic allows compressor synchronization