Adsorption Dryer Zander®, Ecodry KE-MT Multitronic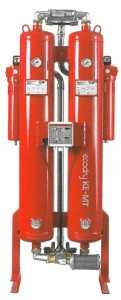 Fully redesigned purification system KE-MT for high capacities consists of heatless adsorption dryer (PSA – pressure swing adsorption). It is recommended to install prefilter range XL,  and dust filter at outlet range VL.
Additional vessel (as an adsober of hydrocarbons AK)  creates compact system for keeping outlet oil concentration up to 0,003 mg/m3.
Deyer range KE-MT is also available in Silicone Free & PaintCompatible.
Features:
standard capacity up to 6100 m3/h
power supply 230VAC, 40W
10-minute cycles, 12-times per hour – additional purge air saving of 5,6% in comparision with other manufactures
Pressure dew point (PDP) in the range -25 to -70°C – high operational safety
Multitronic – mikroprocessor control device for direct compressor synchronisation- adjustable required level of PDP
Valve block of new generation with valve of precise position, direct control of regeneration valves as well –stability at each situation
LED diods on PID display status of the dryer
Effective run control based on real value of PDP- proportional reduction of operating costs with dryer's load
Special stainless steel supporting plate for uniforming air-flow-distribution ensuring optimal speed profile accross the vessel – longer desiccant lifetime
Pressure vessels according to PED, ASME, China Stamp, ISPESEL, SdM, UDT – alternative solutions