Electromagnetic drain Traptronic discharges a condensate from pneumatic system in adjustable intervals.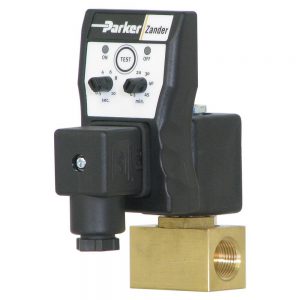 Drains Traptronic (TRAP) are of very simple design and small dimensions, so they are suitable for very wide range of applications.
All TRAP drains can be operated manually. TRAP22 and bigger can set-up the time of condensate discharging, i.e. time when the valve is open.
This type of the drain is very often installed on the filters and on cyclone separators. TRAPs are not recommended to apply with connetions to oil/water separators based on gravity principle. The reason is in frequent aeration of the emulsion inside the pipe and inside separator. This effect does not lead to stabile emulsion.), ie. oil atop and water below.
Design: IP65, 230/110VAC-50Hz, PN 16- PN 400.