High pressure PSA dryer Zander® HDK-MT multitronic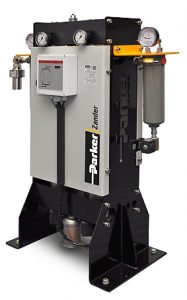 Very compact 2nd generation of heatless dryer ecodry HDK-MT designed for high pressure 100 and 350 barg. This is  result of 30 years of experiance in the field  of adsorption dryers manufacturing, now upgraded by new technology:
high quality piston valves inside robust valve block, individually replaceable, with separate functions:

drying
regeneration
presure build-up

vessel's cap can be released on both ends
pulsation and vibration resistant
design of the lowest weight and corrosion-proof
there is NO PRESSURE VESSEL on this dryer – patent Zander.
These factors guarantee extremely good reliability with high durability. Adsorption dryers HDK-MT are equipped with traditional control system Multitronic. The filters' combination range GH with element XP at inlet and element ZP at outlet meets the highest requirements for compressed air quality.