Pressure Dew Point
… is possible to measure by sensor ZHM 100

This sensor measures Pressure Dew Point (PDP) already at small flow of air/gas. Ceramic sensor ZHM100 (Michell Instruments), detects partial pressure of water vapour which corresponds to PDP directly. Standard applications: compressed air, natural gas, nitrogen, CO2 etc..
Complete measuring set consists of: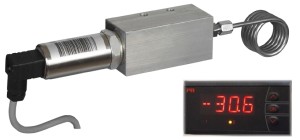 measuring chamber
moisture sensor ZHM100
needle valve with long outlet pipe
display unit, analog output available as an option
Parameters:
PDP range: +20 … -100°C, +/- 2°C
output 4-20 mA
the range of calibration: PDP +20 … -75°C

calibration

of "old" sensor is provided

by exchanging

with calibrated one
air/gas pressure: vacuum 0,001 mbar up to overpressure 350 bar g
power supply: 230V/50Hz
ATEX version as an option

Sensor ZHM100 is used in portable unit TRB100A for easy indication of PDP on more places.
Sensor ZHM100 is optional device to the control systems Multitronic and ZDMC2. It is used for Dew-point-control of drying process in order to reduce operating costs (Parker|Zander: K-MT/KA-MT, KE-MT/KEA-MT,  HDK-MT, BSP-MT, WVM etc.).
Control system Multitronic is possible to use on all PSA dryers Zander for full range of pressures. It is very convenient to install Multitronic on PSA dryers of other manufactureres (Atlas Copco, Deltech, Domnick hunter, Donaldson, FST, Gardner Denver, Ingersoll Rand, Kaeser, MTA, OMI, SPX Hankisonetc.).